Elixir Roll on Energy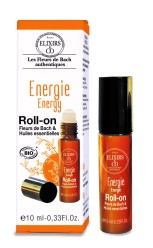 Price:
179 kr
Inc. 25% Tax
SKU:
P1646139
Quantity:
In Stock
179 SEK (18 EUR)

Swedish
Energy: Rekommenderas för situationer, när man vill öka energinivå och vitalitet.

Denna sköna produktserie baserar sig på Bachs metod, där man använder extrakter som är gjorda av vilda växter enligt Bachs ursprungliga metod. Produkterna är ekosertifierade.

Oljan ligger i 10 ml bruna glasflaskor. De är lätta att ta med i fickan eller i handväskan.

Roll-on lösningen säkerställer en enkel och lätt andvänding. Vid behov kan man påföra oljan på huden snabbt och obemärkt. Dessa behagliga dofter kan man använda även som naturliga dofter då dom doftar juvligt.
Made in France.

English
Energy: Recommended for situations when you want to increase energy levels and vitality.

This beautiful product range is based on Bach's method, using extracts made from wild plants according to Bach's original method. The products are eco-certified.

The oil is in 10 ml brown glass bottles. They are easy to bring in your pocket or in your handbag.

The roll-on solution ensures a simple and easy use. If necessary, oil can be applied to the skin quickly and unnoticed. These pleasant fragrances can also be used as natural fragrances as they smell gently.
Made in France.